Hardworking, talented | Naz Ali has managed to successfully juggle two careers – one as a restaurateur and another as internationally known DJ Nasty Naz.
By LAVERNE STEWART
[email protected]
THE DAILY GLEANER/STEPHEN MACGILLIVRAY PHOTO
FULFILLING WORK: Naz Ali runs his downtown restaurant, Caribbean Flavas, and is also a DJ — DJ Nasty Naz — who often records live shows for syndicated radio programming heard in Toronto, Calgary, the Netherlands and New York City.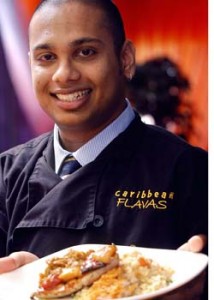 He loves to feed you — body and soul.
The lunch crowd at Caribbean Flavas is just leaving and Naz Ali is able to leave his openconcept kitchen and come into the dining area for a chat. He's been up since dawn. Ali won't stop until sometime in the wee hours of tomorrow but he's not complaining. Ali loves the crazy hours he keeps.
As a restaurateur and DJ, he's having a love affair with his dual careers. Because he often works 18-hour days in demanding, albeit fulfilling occupations, he doesn't have time for a relationship presently, he says. If and when it does happen, it will have to be with someone who is involved in some way with the industry and who understands the demands on his time.
"Food and music are my girlfriends," says Ali.
The reality of Ali's life is far from his boyhood dreams. As a kid growing up in Trinidad, he wanted to become a marine biologist or a pediatrician and he never would have considered leaving his tropical island paradise home for a life in this city. Then he was offered a university scholarship but declined it. He was offered a second time and agreed to come to the University of New Brunswick's business program but just for a semester, he thought. That was five years ago.
He's still here.
New Brunswick winters can be brutal but the warmth of the people in this city and this province are wonderful, he says. While at university, Ali had a business plan to open a Caribbean restaurant. His professors dismissed the plan, telling him it would never fly in this city.
Not dissuaded, he went looking for seed money. He knocked on the doors of business development agencies and banks but couldn't get financing. So he went to family and friends who were happy to back him. Ali was determined to prove the naysayers wrong. And he did.
Caribbean Flavas has been awarded BEST Restaurant in the Province and also been given top marks by Where to Eat in Canada.
In the past three-and-a-half years, his restaurant has gained a who's who clientele, he says. Artists such as Snoop Dogg, Akon, Russell Simmons, Rihanna, Eva Avila and members of the group Hedley have all enjoyed his food.
"Anybody who's anybody comes to my spot," says Ali.
He first became interested in food while watching his mother prepare meals at home. The first dish he made on his own was a curried chicken. The real pleasure in preparing food for others, he says, is watching people's facial expressions as they take the first bite. Long after the restaurant closes for the day, Ali is still working.
But he turns his attention to music.
After a quick shower and a change of clothing, he becomes DJ Nasty Naz and he's off to his nighttime gig.
You will find him at Nicky Zee's and The Back Nine several times a week, spinning music for large crowds who are hungry for R&B, reggae, hip hop and urban beats. Often when he is there, he is recording these live shows for syndicated radio programming which is heard by over one million listeners in Toronto, Calgary, the Netherlands and, as of this week, New York.
He will soon be off to New Orleans and New York City to be a part of what he describes as 'an elite DJ coalition.' "They invite key people in the industry who've been making changes. "All these artists e-mail or text (message) me with their new songs the labels don't even know about yet. Myself and other people listen to them and make suggestions about changes they could make.
"We set trends."
Ali says one of his biggest thrills was being invited to Alicia Keys's office with his family.
They met through her record label, he explains. "I was just hanging out with everyone. It was crazy. Then her manager invited me to go to her birthday party a year-and-a-half ago. I couldn't go because of (university) exams. I had to say 'Wish Alicia a happy birthday for me.'"
Ali got his start in the music industry after hanging around DJs in Trinidad at radio stations and concerts. "I would get in their faces. So they let me become their crate boy carrying their music in milk crates to concerts."
His musical break came at a concert when the DJ left on a break but couldn't get through the large crowd in time to change the music. So Ali stepped in to fill the dead air.
"So I put on a record and started scratching it. The crowd went crazy."
He's been a DJ for artists such as Lauryn Hill, the Fugees and Shaggy. When the dance parties are over and Ali finally goes home, he remains awake chatting with music artists on MSN.
His mentor, he says, is music and fashion industry mogul Russell Simmons.
About four months ago, Ali says, he asked Simmons how he measures success. "He said, 'Naz, if you find a job you love, you'll never have to work a day in your life.'" If this is the measuring stick of success, then Ali is already hugely successful as the co-owner of an award-winning restaurant and an internationally known DJ "I get paid to party. I can't see anything better than that."
But Ali is a driven man wanting more and determined to get it. In 10 years, he says, he wants to expand his business with restaurant franchises but he also wants to find more time for himself. Ali says if he had to choose between food and music, he would pick the music. He says he has chosen to remain in Fredericton because he is established here both as a chef and DJ.
If he were to move to a larger centre such as Toronto it would mean starting over. Now, whenever a DJ is needed in Atlantic Canada, he says he has made enough connections in the industry that he will get the call.
When the Black Eyed Peas and the Pussycat Dolls performed on P.E.I. last summer, he was there.
It was fantastic, he recalls, to hear some 40,000 people screaming his name. And he says it's especially satisfying to know those artists appreciate his work. He recalls the American Music Awards, during the Black Eyed Peas' acceptance speech when they mentioned his name, thanking him for his work.
Ali hasn't returned to Trinidad since moving here in 2003. But his parents and sisters are here with him, working at the restaurant so he says he doesn't miss the island life. The atmosphere at Caribbean Flavas is definitely tropical. Bright hues of blue, pink, yellow and orange are on the walls. Views of the ocean and a tropical beach can be seen through faux windows. "I have created my own little island here."
Having his family live and work with him is wonderful.
In Caribbean culture, he explains, families stay together for life. "Family is huge. We work, eat and pray together," he says. Leaving the business in the hands of his parents and sisters affords him peace of mind whenever he is away. With so much on his plate is he worried about burnout No, he says.
"This is not a job. It's a passion."
Tags: Akon, Black Eye Peas, born winner, Caribbean Flavas, Chef, DJ, DJ Nasty Naz, driven, New Brunswick, Russell Simmons, success