About Naz
The Real Deal…
His fast-paced professional career in the music industry has included both the business and performance components. His energetic personality has been featured on numerous radio and television programs. He has also held responsibilities for radio editing, script writing, the production and composition of new and original beats, as well as the creation and production of promotions, advertisements, and the writing and voicing of PSA's. Not to mention editing of his show and other shows using Avid…
The Journey…
Nasty's career was set in motion while living in the Caribbean (Trinidad) working with established artists within the industry.
Since January 2012, Naz has been working with Celine Dion's manager and Executive Producer (of the past 25 years) and closely with Top female Canadian (2 x Platinum, 3 x Gold, JUNO Nominated) Artist – Kristina Maria as her DJ, Hypeman and Production Manager.
Naz has dealt with all different aspects of her show – everything from studio sessions, to Technical Rider to Sound Check and even Singing and Hyping with her on stage.
DJ Nasty Naz was recently added as the DJ to the line up of talented performers for the BAD BOY President and hip hop mogul, P. Diddy, for his prestigious – Coming Home Tour – with artists like Tyga (Young Money Cash Money) and R & B Sensation Lloyd. 
Before that Naz was most recently Multi Platinum Sean Kingston's tour DJ  and tour Hypeman, and lived at his Miami mansion.  Naz has had the blessing of performing in Saudi Arabia, Paris, New Zealand, Australia (for over 300,000 people), UK, throughout the US and Canada, Virgin Islands and, he even performed at a headlining show in Jamaica with Shaggy, Beenie Man, Tessane Chin (Winner of The Voice) and an entire slew of artists, with the proceeds going toward the Haiti relief fund.
He has been chosen as one of the capital region's most talented musicians and has represented the province of New Brunswick on an international stage in Vancouver for various performances at the 2010 Winter Olympics. He performed alongside acts like The Olympic Symphonium, Singer-songwriter David Myles, and acclaimed Soprano Opera Singer Measha Brueggergosman .
He has completed Atlantic Tours with acts like Multi Platinum Pop sensation Sean Kingston, and supporting acts like Danny Ferenandes, Karl Wolf, and Girlicious.
He was invited personally to attend and DJ a B.Day Bash for Russell Simmons in Miami, and serve his famous Coconut bread from his award winning restaurant – Caribbean Flavas. He has also completed cross-Canada Tours with acts like Mr Konvict himself Akon & Kardinal, Super Performer and Producer Wyclef & Dancehall Legend Sean Paul, as their tour DJ, hypeman & Chef. He has rubbed shoulders at the prestigious Mansion club, in Miami with acts like Lil Jon, Lil Scrappy, Dj Khaled and Twista.
Nasty hosted the Snoop/Ice Cube concert and was also the official DJ and Chef.
He was also hand chosen by the Black Eyed Peas to DJ Portion of the concert for the BEP and Pussy Cat Dolls Canadian Tour.
He was nominated by Flow 93 Toronto, MuchMusic, Stylus & Rogers Wireless as the Best DJ in the East Coast, six years in a row (2006 – 2012).
He has also hosted / stage managed the Canada Day celebrations for his city of Fredericton and helped to judge Dj competitions like the DMC's.
In previous years he has been on tour and hosted many different concerts and events, from artists like the Game and Snoop to DMX, and the Fugees.
He has also hosted many different church events, as well as charity events for organizations like Cystic Fibrosis, Breast Cancer, and every year he continues to help raise money (over 50k) for the prevention of abuse toward women and children as well as the prevention of child soldiers with War Child Canada.
In addition to this he spent 4 weeks as the DJ and host for the Coors light Maxim Magazine Club Tour. DJ Nasty Naz has also been involved in the public relations, tour promotions, as the personal tour Chef and interviewing sessions and has even performed with numerous artists including, but not restricted to, Flo- Rida, Justin Bieber, Selena Gomez, Timbaland, Pitbull, Alexisonfire, Classified, Akon, Rhianna, Rise Against, K-OS, Leonard Cohen, The Trews, Eva Avila, Hedley, DMX, Sean Paul, Dr Jay.- Kingdom of Soca, Lauryn Hill, Swollen Members, Method Man, Theory of a Deadman, Sizzla, Default, Super Cat and Capleton.
Now he's set to turn the page of yet another chapter in his life, where with his music experience, and his many artist friends along the way, Naz is putting forth his first album ever.
Naz's First Single – Party Girls – Co written and Co Produced by DJ Nasty Naz (Trinidad/Canada) featuring Young Ex (Atlanta), is not only a club smash but a track that would be played by the masses all year round. Its a mash up style of LMFAO meets Black Eyed Peas…with a touch of Canadian Maple Goodness. Its basically about what college students do best (when not studying of course)…partying..drinking…and having fun… The hook is catchy, fun and very rhythmic, within seconds you will soon find you are bobbing and singing along to the track, with the chorus proving to have lots of energy. Its a VERY RADIO friendly track, with no swearing or lyrics about violence. It was first released on August 1st, and it has already managed to get 30,000 downloads, with the prestigious CBC as well as Stations in Quebec, London, Africa and Belgium already having the Track on rotation.
International artists from the Caribbean and the US, UK, Miami and Toronto and DJs from Bigga Rankin and A- Track to Clinton Sparks and DJ Smalls alike have all been supporting and spinning the track.
Naz has clearly begun to write a new chapter, and is set to take his supporters on a journey filled with adventure, emotion, action and lots of passion and drive.
Connections with management teams from labels such as MBK (Alicia Keys), Murder Inc and DefJam (NYC), SonyBMG (Toronto), and Nu-Blood Records (Montreal), as well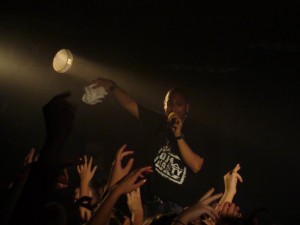 as affiliations with DJ's worldwide, have allowed DJ Nasty Naz to further his contacts in the industry while developing his skills as an individual performer.
The Capabilities…
Inspired by performers such as Busta Rhymes and Ludacris, Nasty Naz's DJ, emcee and HYPE-man abilities are also featured at successful venues through a self-owned and managed company. By combining business sense and technical ability with an honest and positive attitude, wrapped up with an endless amount of energy, DJ Nasty Naz has become a young entrepreneur while maintaining complete professionalism.
The Complete Package…
Having completed his MBA at the University of New Brunswick with a focus on marketing, DJ Nasty Naz treats his career as a business venture. By creating the need for a product and delivering the service, he is able to continually provide satisfactory work on all levels. Confidence and determination allow him to convince clients that the job will be done right the first time, thus, giving him the competitive edge in a rapid-paced and constantly changing industry.
The Biggest Highlights in my Life
Having my Restaurant, which was an underdog school project win "BEST Restaurant in the Province", and to be able to cook for so many different artists etc. The other biggest highlight of my life was being able to interview the hip hop pioneer, the guru of the music industry – Mr. Russell Simmons. When interviewed by a CBC reporter she asked "Where do you expect to finish?"
"I don't expect at all. Finishing means that the race or journey is over. My journey has only just begun." – DJ Nasty Naz